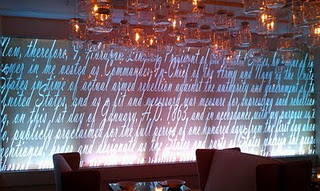 I invite a few friends to join me downtown for a midweek girls night out.  For one reason or another the destination keeps changing.  I am looking forward to trying the new El Centro CF, but they end up canceling my reservation in favor of a private party.  I don't remember how I end up stumbling upon Lincoln.  I had dismissed it initially because the name just doesn't appeal to me.  Who names a restaurant after a U.S. president? The place sounds too American for my taste.
But it is supposed to be a dark and stormy night, and it seems like something close to Metro would be best. I recall seeing the newly opened Lincoln mentioned on Tom Sietsema's First Bites column. Once I look at the menu, I am sold. There are a number of dishes I find appealing and more vegetarian options than many places around town.  Note to self:  in the future look at a menu before dismissing a restaurant based on its name.
At first, I am concerned that I made a mistake.  As soon as we enter through the front door the noise is deafening.  Fortunately we are led to a room a bit farther back where it is a teensy bit quieter.
We are immediately impressed with the decor.  Cool place!  The room where we are seated features light fixtures made from mason jars.  Apparently during the Civil War soldiers ate their food in glass containers. (I just learned this…thanks, Tom Sietsema).  Unfortunately we neglect to notice a centerpiece of the design, a tiled floor created from over one million pennies.  I feel like an idiot for missing this, as it is a really big deal. Note to self:  go back to Lincoln and look down, even if you are led to the back room.
We do notice the iconic artwork and an entire wall featuring the Emancipation Proclamation.  While everything in the restaurant is inspired by the 1860's, it's done in a fun and contemporary way.
Lincoln's menu features small plates. These days I almost prefer small plates over a standard three course meal because I can explore more dishes and don't have to dwell on anything I don't like. We begin with the Local Farm Cheese Board.  I thoroughly enjoy the variety of textures and flavors featured on the plate.  It really is a nice way to ease into a meal, accompanied by a nice glass of wine, of course.
Our array of dishes include: roasted vegetable tian with eggplant, zucchini, tomato and a breadcrumb crunch; spring gnocchi with English peas, spring garlic, asparagus, and portobello; organic kale salad with toasted hazelnuts, dried cranberries, grated parmesan and lemon vinaigrette; Meyer Farm NY strip steak with sunchoke lyonnaise and red wine onions; fries, and potato crusted cod with new potatoes and poached leeks.
NY strip steak
Each dish excites us more than the next. Because we have no expectations about the food, the flavors delight us even more than if we were dining at a highly-rated, constantly reviewed establishment.
The standout dish is a surprise.  It's the kale salad.  It is fresh and salty (in a good way) and has more complexity than I ever expected, and I don't even eat the hazelnuts. This dish is making me feel downright patriotic!
kale salad
The other winner is the potato crusted cod.  The only dish that could use more punch is the gnocchi.
gnocchi
We end with the funnel cake- you really can't get more American than that.
My goal this year is to try many of the top restaurants in town where I've never been.  Sometimes I end up disappointed mostly because of my high expectations.  There is something exciting about being a pioneer and charting undiscovered territories.  And isn't that what life in the 1800's was really about?
Lincoln, 110 Vermont Ave. NW, Washington, DC 20005
My rating (on a 1-5 scale):  4.0


Washington Post First Bites Column