I can't even.  I seem to find myself scratching my head in disbelief quite a lot these days. Most often I employ this phrase as a negative reaction to an event or situation, but occasionally it's how I express myself when I find something impressive or intriguing.
"I can't even" is what I exclaim as I exit Metro at the Waterfront station and head towards Lupo Marino at the District Wharf.  I am wide-eyed as I take in the rapid expansion, and grateful that dining options are becoming more diverse here. I stroll down Wharf Street past restaurants featuring Spanish, Caribbean, Mexican, and Southeast Asian cuisine. Several establishments embrace the nautical theme, including Lupo Marino which offers seafood with an Italian accent.
Lupo Marino is the follow-up to Lupo Verde on 14th Street and Lupo Osteria in the Palisades.  The trio of Italian restaurants from owner Med Lahlou each have a distinct style, with Lupo Marino a lively fusion of DC's waterfront and the Amalfi Coast.
The 68-seat restaurant is both casual and comfortable. It's a perfect destination for diners who are looking for good food – that's not crazy expensive.  It works well as a prelude to a concert at The Anthem or Pearl Street Warehouse, a play at Arena Stage, or as a precursor to strolling around the Wharf and soaking in the setting.
Todd Sprik serves as Executive Chef at Lupo Marino. He comes to DC after spending 7 years in Miami as chef de cuisine of South Beach's Byblos Miami and sous chef at Stephen Starr's Le Zoo.  Other restaurant credits are Scarpetta in Miami and Valentino's Cucina Italiana in Fort Lauderdale.  His resume is impressive.  Read more about him here.
The design at Lupo Marino is rustic seaside chic. If you weren't looking out the window at a concert venue located in an alley, you really could envision yourself at the beach.
I appreciate a menu that includes small bites that you can enjoy with cocktails as you ponder what to order. Marinated olives don't seem like they would generate great enthusiasm, and yet here they are a certified hit.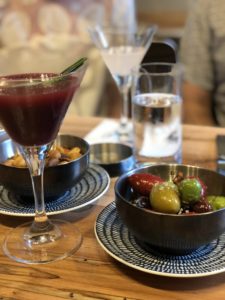 A custom Italian-made blue-tiled pizza oven puts pizza at the forefront. Each of the options feature mouth-watering, inventive ingredients. The namesake Lupo Marino combines porchetta, roasted pepper relish, broccolini, and pecorino.  It's a favorite at the table. A runner up is the earthy Funghi with garlic confit, foraged mushroom, pecorino crema, preserved lemon, and oregano.
To fully appreciate a meal here, leave your calorie restrictions at the door, and focus on the fritto and pasta sections of the menu. Fritto Misto is a fried wonder of calamari, sardines, head-on prawns and burnt lemon.
Polpettini – a mixture of beef and pork rolled and tossed with savory marinara -are warm and comforting, well-deserving of a place at the table.
Pay attention to the pasta, particularly light and airy gnocchi brimming with seasonal ingredients including asparagus alongside wild mushrooms and spring peas. I can't even, it's so good.
Paccheri embraces the seafood concept to the fullest, merging crab, shrimp, and squid amidst a tasty saffron broth.
At Lupo Marino even tuna carpaccio has carbs. The fish is served over crisp flatbread and topped with fennel pollen and truffle vinaigrette. It's quite good, but if you're looking for a something lighter, try the lovely stracciatella with summer squash, fava beans, and a bright touch of ramp salsa verde.
Once you've enjoyed pizza, pasta, fried food, and for balance perhaps you must order dessert. Because, why not at this point?  The show-stopper is espresso coffee bomb – a flavor explosion with espresso gelato, passion fruit sorbet, and a sorrel leaf for a touch of drama.
Bomboloni filled with nutella make an appearance and then a swift disappearance from our table.  I neglect to grab one before they are gobbled up.  You have to pay close attention when dining with a group if you want to taste all the food.
On the other hand, it's also important to maintain an awareness of your surroundings.  As we are enjoying our meal we learn that "Modern Family" star Ty Burrell was dining here and has just departed.  It pains me when I am this close to a celebrity sighting and miss out. You know what I'm thinking….I can't even.  Instead of bemoaning the loss, I dive back into my satisfying meal.  When it comes to Lupo Marino, yes I can.
Lupo Marino, 40 Pearl St. SW, Washington, DC
Been There, Eaten That was a guest of Lupo Marino